End of Summer Skin Cancer Checks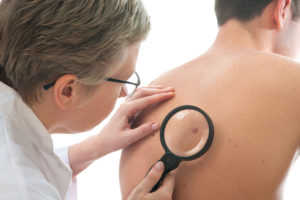 Summer Skin Cancer Checks at Skin & Laser Surgery Center. It's nearing the end of summer, you may notice that you've gained a few freckles or even moles after spending a lot of time outdoors and in the sun. And although many freckles and moles aren't cancerous, it's still important that you keep a close eye on them and monitor them for changes.
What Should I Look For?
The biggest things you want to look for when you're trying to spot abnormal moles or skin growths are unique changes. For instance, are there changes in the shape of your mole? Has it gotten bigger? Are the edges a little uneven? What about the color? Has it gotten darker? Does it look discolored overall? These are all of the questions you should ask yourself when you're looking for abnormal moles. Additionally, you may want to look for pus around your mole, tenderness, swelling, and irritation.
What Should I Do If I Spot Changes?
If you noticed any of the changes listed above, then make sure that you schedule an appointment with our office right away. Although some skin cancers can be removed with a non-invasive approach, surgery is usually required. We perform skin cancer surgeries almost daily, so you can rest easy knowing that you are in experienced hands.
What Should I Do to Prevent Skin Cancer?
There are several small things that you can do that will have a big impact on your skin and will help keep it protected. Make sure you wear sunscreen every time you go outside, reapply sunscreen every two hours if you're spending a prolonged amount of time in the sun, and try to cover up or stay indoors as much as possible.
Taking good care of your skin is one of the best things you can do for your health; especially when it comes to preventing skin cancer. Are you ready to learn more about skin cancer prevention? Contact our Nashua office today to learn more and call (603) 886-5506.