The skin is affected by the environment, our inner health, and even stress. This gives us a clue that our skin needs a lot of care and protection. Our New England offices in Nashua, Revere, and Chelmsford provide a comfortable setting and proven therapies to help teens and adults manage their skin's health. We are pleased to offer chemical peels to address numerous cosmetic and dermatologic needs.
What Is a Chemical Peel?
A chemical peel is a professional treatment that is customized to the individual. Light, medium, and deep peels may be performed based on needs and preferences. In any case, the solution that is applied to the skin aids in the exfoliation process. Typically, the cells that make up the outermost layer of the skin, the stratum corneum, should fall off naturally. They often don't and need the help of a gentle chemical formulation.
What chemical peels Can treat
Chemical peels can be used for everything from skin maintenance and the postponement of the signs of aging to acne scarring. This method of skincare can:
Minimize the appearance of mild scarring
Reduce or erase slight wrinkles
Improve the tone and texture of the skin
Get rid of blackheads
Temporarily reduce excessive oiliness
Correct sun damage (sun spots)
Who is a Candidate for a Chemical Peel In Southern New England?
Chemical peels represent a valuable treatment to ward off and correct the signs of aging. However, this therapy is not appropriate for everyone. Two characteristics that we need to consider when choosing a chemical peel is skin tone and skin condition:
Skin Tone
The description of a peel as "light," "medium," or "deep" refers to the number of layers of tissue that the treatment effects. The lightest peels can successfully treat most skin tones. This is because the light peel only affects the very uppermost layer of skin cells. Medium peels may be a better fit for individuals with fairer skin and lighter hair. Deep peels, which we do not perform in our practice, remove multiple layers of skin and are generally not as suitable for darker skin tones.
Skin Condition
Chemical peels interact with the skin, as do certain habits and conditions. Individuals who are considering a chemical peel should tell their provider if they experience recurrent cold sores or take medication of any kind. Active acne, infection, or inflammation caused by a chronic skin condition may present increased risks from chemical peel treatment. Postponing treatment until skin is calmer and less reactive reduces the risk of heightened redness and excessive peeling.
Chemical Peel Benefits
Chemical peels have been popular for several years. Compared to those that were performed a few decades ago, the chemical peels of today are far more refined and customized. This is just one reason to schedule your chemical peel now at Skin & Laser Surgery Center of New England. Additional benefits include:
Smoother, softer, brighter skin
Better efficiency with skincare products
Improved control over melasma
Reduced acne and acne scarring
"I highly recommend Dr.khatri. Dr. Khatri and his staff are excellent. I had an amazing experience and fabulous result on my skin."

-Ana A.
"Everyone greets you with a smile, very professional environment. I had my procedure today and couldn't believe the instant visible results. Would highly recommend."

Carmen R.
Schedule a Consultation
If you would like to learn more about chemical peels, please contact us today at (617) 381-1717 or send us a message below to schedule a consultation.
Before & After Chemical Peels
Chemical Peels
Chemical Peels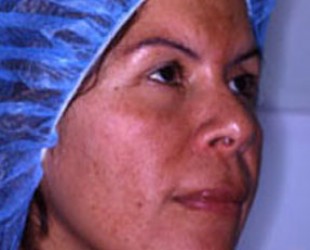 Types of Chemical Peels We Offer In Nashua, Revere, And Chelmsford
At Skin & Laser Surgery Center of New England, we offer SkinMedica and SkinCeuticals Peels, including:
Vitalize Peel – Containing concentrations of Salicylic Acid, Resorcinol, Lactic Acid, Panthenol, Isoceteth-20 along with retinol, the Vitalize Peel accelerates skin exfoliation for vastly improved tone and texture and correction of mild to moderate sun damage.
SkinCeuticals peels – these peels contain various concentrations of glycolic and salicylic acid and may also contain vitamin C to firm the skin.
What Type of Chemical Peel Is Right for Me?
The type of chemical peel will vary with each patient. As a part of our intake process, Dr. Khatri will conduct a thorough consultation and skin assessment. It is necessary for us to get to know your skin and your goals and preferences before we can recommend any chemical peel.
How Chemical Peels Work With Dr. Khatri
Chemical peel treatment is conducted while the patient lies comfortably on the exam table. First, one of our staff members will cleanse the skin thoroughly, and apply a gel substance into the creases around the nose and onto the lips. This will protect the delicate skin from solution buildup. Then, we will coat the skin with the appropriate acidic solution. This will stay in place for a few minutes. During that time, slight tingling, stinging, or burning may occur. These sensations may feel somewhat intense but are not usually painful. They indicate that acidic ingredients are penetrating the uppermost layer of cells and stimulating an immune response in which collagen production will increase.
Chemical Peel Side Effects
Some chemical peels produce no side effects at all. The medium peels that are available in our offices may cause the skin to appear slightly red for a short time. These peels are also more likely to cause some degree of flaking, from light to profuse. The skin may also peel in sheets, similar to a sunburn. After the peel, the skin usually feels comfortable, no lasting burning or tingling. However, some patients do report an itchy sensation as cells break apart and prepare to release.
How Many Chemical Peel treatments Until I See Results?
Treatment protocols vary based on the condition of the skin at the onset of care and the objective that we want to achieve. Men and women who schedule chemical peels as a routine aspect of their skincare regimen may maintain their skin's vibrancy and smoothness with just one treatment every few months. The more damage the skin has sustained, the more treatments will be necessary to fully correct problems. Additionally, the depth of the peel will affect the final outcome after each treatment. Generally, most cosmetic concerns can vastly improve with one to six peels.
How Long Chemical Peel Results may Last
Several variables can affect the longevity of results, including genetics, lifestyle habits, and the condition of the skin at the time of treatment. In general, the results of a light peel can last one to two months. Medium peels may last up to six months.