For hundreds of years, humans have been striving for ways to better manage the signs of aging. All that trial and error has paid off in ways that we can now benefit from in significant ways. Although safe plastic surgery techniques have been developed for the correction of many of the signs of aging, more and more patients are realizing that they can take advantage of their body's own functions and inhibit certain factors such as facial aging and hair loss. One of the ways we do this is with PRP. PRP is suitable for both men and women and is a state of the art alternative procedure we use for hair loss or hair thinning and facial rejuvenation.
PRP Therapy for Hair Loss
What is PRP?
PRP is the term used to describe platelet-rich plasma, a blood product that, because it comes from the patient's own body, does not raise concerns about potential side effects or adverse reaction. Platelet-rich plasma is valuable to healing and dermal regeneration because this activated, autologous serum releases growth factors and other healing molecules into the dermal tissue that has begun to show the signs of aging or skin damage. Our ability to use our own body cells to "heal ourselves", truly transforms how we are able to combat the following:
Causes OF hair loss in women
Nearly 40 million American women suffer from hair loss. Hair thinning in women is mainly due to heredity and can start any time after puberty. Even with this influence, hair loss in women can be strongly influenced by age, nutrition, stress, surgery, medications, illness, social/lifestyle factors, hair care, and more.
Causes Of hair loss in men
For men, studies show a progressive pattern of hair loss that is passed on through heredity and is triggered by the hormone–specifically dihydrotestosterone or DHT. It is estimated that nearly 60 million American men are suffering from male pattern hair loss.
Schedule a Consultation
If you are interested in learning more about PRP for both Hair Loss and Facial Rejuvenation Treatment, please contact us today at (617) 381-1717 or send us a message below to schedule a consultation.
Candidates for PRP Hair Loss Treatments
Ideal candidates for this treatment are found to be in the beginning stages of thinning hair with at least partially active hair follicles. Patients with more advanced hair loss or inactive follicles are still good candidates for PRP, however, they may require more treatments.
People suffering from alopecia areata (hair loss due to your immune system accidentally attacking your hair follicles) are good candidates for this treatment as well.
Benefits of PRP Treatments For Hair Loss
One of the primary benefits of PRP treatment is that it is performed on an outpatient basis without the need for anesthesia. There are no incisions, so there is no need for downtime after treatment. Patients appreciate the fact that they can immediately resume normal activities after a comfortable treatment session. Another benefit that has increased PRP's popularity is that it is a "natural" way to restore healing to the body in comparison to other known medications.
Painless PRP Injections with U225 PRP Gun
At Skin & Laser Surgery Center of New England, we now administer PRP treatments with the new U225 gun. This instrument introduces a unique system of delivering an almost painless treatment. The U225 gun combines the needling and cannula into one step, alleviating the need for numbing cream. Not only do you receive an almost painless procedure, but this instrument delivers a faster treatment.
Is PRP for Hair Loss Painful?
"Dr.Khatri is a kind and intelligent professional who does fantastic work! Staff is courteous and efficient!" -Leslie Longo
"Wouldn't imagine going anywhere else for my skin care! Excellent service with amazing results using the latest technology." -Angela Rene
PRP Hair Loss Treatment Before & After
PRP Hair Loss Treatment
PRP Hair Loss Treatment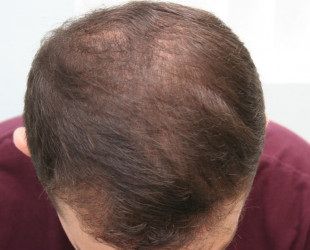 Prp Facial Rejuvenation Treatment
Just as for hair loss treatment, PRP has the ability to rejuvenate the skin. Using the same healing properties administered by our natural body cells, administering PRP to the face can revitalize the face. This treatment promotes your own collagen to grow, regenerating your facial tissues to smooth and tighten the skin.
Facial Rejuvenation with PRP
This healing property has been found to correct the following on the face:
Fine lines
Wrinkles
Facial Scarring
Acne Scarring
Improve texture and tone
Plump cheek indentations
Soften under-eye hollows
Schedule a Consultation
If you are interested in learning more about PRP for both Hair Loss and Facial Rejuvenation Treatment, please contact us today at (617) 381-1717 or send us a message below to schedule a consultation.
PRP Therapy for Hair Loss
PRP Therapy for Facial Rejuvenation
PRP Therapy And Treatment in Boston And Nashua
PRP application begins with a brief skin-cleansing and application of the topical anesthetic gel. We also use Nitrous Oxide gas (laughing gas) for added comfort and to make the procedure almost pain-free. After your blood is drawn, it is spun in a centrifuge and the PRP is separated and then removed from the rest of the blood.
Next, your platelets are concentrated to about 3 times the normal blood value to help stimulate hair growth in the treatment area. Finally, the platelet-rich plasma is injected into your treatment area. PRP treatment does not require medications pre or post-procedure.
How Long Does The PRP Treatment Take?
The treatment takes approximately 30 minutes to complete depending on the size of the area being treated.
PRP Therapy for Hair Loss – Male Patient
PRP Therapy for Hair Loss – Female Patient
Are PRP Injections Painful?
Prior to commencing with treatment, we can apply a topical anesthetic gel that desensitizes superficial nerve-endings. We also use Nitrous Oxide gas (laughing gas) for added comfort and to make the procedure almost pain-free. This enables patients to feel a sensation that is similar to microdermabrasion or like sandpaper gently running across the skin. Furthermore, the inclusion of healing PRP is said to immediately soothe the minor discomfort that may coincide with tiny pin-pricks. Alongside these measures to alleviate possible pain, our team now administers PRP injections with the U225 gun. This instrument allows for an almost painless treatment as it supplies the needling and cannula within the same step!
PRP Recovery Time
There is no recovery time needed after PRP treatments.
Side Effects of PRP Treatments
Due to the fact that PRP uses the patient's own blood to stimulate hair growth, side effects, or reactions to it this treatment remains extremely low. PRP allows for a natural and non-surgical solution to hair loss. It is a very safe and exciting option for patients seeking natural ways to regrow their hair.